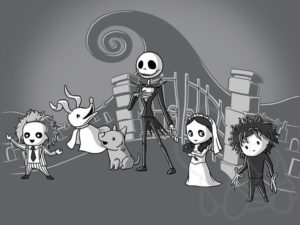 2017 Casting Call Sign-up
Be a part of INDIANA's SCARIEST HAUNTED HOUSE!
Fear Fair – Indiana's Scariest Haunted House is currently accepting applications for our 17th season!
Fear Fair is currently accepting applications for the 2017 season!  We are looking for energetic people who want to become part of Indiana's largest, most award winning haunted attraction.  Fear Fair has been recognized nationally in Forbes Magazine's list of 13 haunted attractions in America, USA Today's top ten extreme haunted attractions and Coaster Nation's top haunts! Come join our theatrical cast of weird, demented, crazy, scary and talented individuals by joining our volunteer team!
Here are the positions we have available:
BUILD CREW
Build crews help setup this haunted show! From building our sets to painting and decorating. If you have a passion in theater arts, you'll love working on our award winning sets! No experience necessary. You'll actually learn a ton from our friendly staff and fellow cast members! People interested in this position must be able to work lifting up to around 75 lbs., moving things, screwing walls together, painting, decorating, etc. Electrical or carpentry skills a plus.
ACTING ROLES
Fear Fair actors are among the most intense and realistic in the industry.  Whether you have never acted in your life and just think it sounds like fun or you're one step away from that Oscar; Fear Fair has a place for you. Attending Scare School is required (usually three classes that last about 2-hours each).
TECH CREW
Do you come from a technical or industrial maintenance background and feel more comfortable behind the scenes?  Fear Fair can definitely use you help.  You'll work with prop controllers, led and dmx lighting, multichannel sound systems, data networking and all other sorts of cool stuff. Fear Fair is pretty state of the art in a lot of ways and several of our techs have gone on to careers in theatrical and concert sound and lighting
GUEST SERVICES
From security to ticket, merchandise and concession sales, to crowd control, ticket scanning.. you name it, we need qualified individuals who are comfortable dealing with the public.  If you want to be involved without being scary, guest services is a perfect fit for you!
Please note: Not everyone will qualify for a part in our show. if your application is approved, you will be contacted by phone or email by our casting department to schedule a Casting Call date for you to meet with them. During the interview process of the Casting Call, you will notified if you receive a call-back to move forward in the process! We ask that you show up on time and be able to commit to as many nights that we are open as possible.
FAQ's (FREQUENTLY ASKED QUESTIONS)
Q. Where is Fear Fair located?
A. Fear Fair is located in Seymour, Indiana at the Freeman Field Airport/Industrial Park.  The street address is 800 A Avenue.
Q. How much will I get paid?
A. Fear Fair is a fully professional, nationally ranked haunted attraction run entirely by volunteers.  From the director on down, we all donate our time. Over the years we have equipped our entire county's first responder vehicles with life saving emergency defibrillators. We've built playgrounds, fed the needy and done so many other things to help our fellow man.  There are several people alive today, who wouldn't otherwise be alive due to Fear Fair's involvement and donations.
That's not to say there aren't perks; I mean we aren't all monks or nuns or anything. You'll get free admission tickets for your family or friends, merchandise, field trips, party nights, dinner nightly.  We have an awesome cast party at the end of each season with some pretty cool gifts. Ask any of the nearly 100 people who currently volunteer at Fear Fair.. it's well worth it!
Q. So you're telling me people really do this for free?
A. That's exactly what we're telling you. Each year we get more people wanting to be involved with Fear Fair than we can use.  That's why we do applications and casting calls.. not everyone makes the cut. Trust us when we say this is fun.. IT"S REALLY THAT MUCH FUN!